Speeding in Residential Areas
Help!
All files are zip compressed. In order to view the PowerPoint presentations you will need to uncompress the files first.
If you are using Microsoft Windows please read this tutorial for help. If you are on Apple OS X simply double-click the file and it will automatically uncompress.
You will need Microsoft Powerpoint to view the presentations. If you do not have that software you can download Microsoft's free PowerPoint viewer.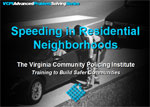 Speeding in Residential Areas Course
This course was developed by the Virginia Community Policing Institute (http://www.vcpionline.org ) which is part of a national network of 27 regional institutes across the country and is supported by funds from the U.S. Department of Justice, Office of Community Oriented Policing Services. The course is intended for patrol and investigative officers and is relevant to any police agency that experiences residential speeding problems. Original curriculum by Rana Sampson.
Powerpoint Presentations
These presentations are based on the POP Guide Speeding in Residential Areas. It includes many illustrations and videos demonstrating how to analyze a speeding problem in a residential area and the solutions revealed by following the method of problem solving presented in the POP guide. Detailed instructional notes are attached to most slides. There are 159 slides in all.
Please note that the video files, once downloaded, must reside in the same directory as the PowerPoint presentation file or they will not play. If you save the clips elsewhere, you will need to edit the PowerPoint file to update the links to the movie files.
Supporting Tools & Articles