New & Notable
Publications

 
New!



Whose 'Eyes on the Street' Control Crime?
Shannon Linning (Simon Fraser University) and John Eck (University of Cincinnati) have just published this short book on crime places and neighborhoods. It is part of Cambridge University Press' Elements in Criminology series, edited by David Weisburd.  Linning and Eck challenge the wisdom of relying on the link between neighborhood residents' informal social control and crime. Instead, they suggest that people from outside neighborhoods hold considerable power to alter crime within neighborhoods. Linning and Eck develop their perspective from the works of Jane Jacobs focusing on property ownership and place management. The book is of interest to academics, police, urban planners, property developers, and more.  
Courses
This program is designed to help senior and mid-level police leaders improve the effectiveness and fairness of police through a problem-oriented approach to policing. It does so by exploring these issues:
The nature and complexity of the modern police function and the challenges in carrying it out
The strengths and limitations of the standard model of policing
The principles and methods of problem-oriented policing
The principles and methods of situational crime prevention
Shifting and sharing police responsibility for addressing public-safety problems
Leading and managing a problem-oriented police agency
A certificate of completion from Arizona State University's Continuing & Professional Education program is provided. You can take the course self-paced by yourself or with others as part of a cohort.
New POP Center Publications
Problem-Oriented Policing: Successful Case Studies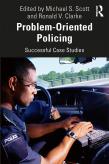 by Michael S. Scott and Ronald V. Clarke (eds.) (Routledge, 2020)
This book explores a wide range of problems that fall under five general categories: gang violence; violence against women; vulnerable people; disorderly places; and theft, robbery, and burglary. The case studies tell stories of how police, in collaboration with others, successfully tackled real-world policing problems fairly and effectively.
Order this book from Routledge 
New POP Guides
New Wilderness Problems Collection
These publications explain how the ideas and principles of problem-oriented policing can be adapted to wildlife protection problems and how your organization can start a problem-oriented project of its own. 
The Wilderness Problem-Specific Guides are designed to help law enforcement agencies structure their thinking and analysis about specific wilderness problems by synthesizing the academic literature available on the topic and providing a framework for problem solving at the local level. 
New Study Further Validates POP
by Joshua C. Hinkle, David Weisburd, Cody W. Telep, and Kevin Petersen
Timely Topics
In light of current proposals to abolish or defund the police, the Response Guide on Shifting and Sharing Responsibility for Public-Safety Problems is especially relevant to addressing the need for other entities in society—on a problem-by-problem basis—to assume greater responsibility for preventing problems that otherwise will be left to the police to address alone.
In light of the COVID-19 pandemic, we are learning of the various effects it is having on crime and policing. Researchers at the Jill Dando Institute for Crime Science in London have produced a series of briefs on these emerging effects.