New & Notable
Conferences
Sixth International Law Enforcement & Public Health Conference, Philadelphia, March 22-26, 2021
Note: This conference is not sponsored by the Center for Problem-Oriented Policing but we are glad to promote it as it addresses many policing problems that overlap with public-health concerns. Click here for a conference flyer.
New POP Center Publications
Problem-Oriented Policing: Successful Case Studies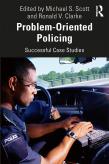 by Michael S. Scott and Ronald V. Clarke (eds.) (Routledge, 2020)
This book explores a wide range of problems that fall under five general categories: gang violence; violence against women; vulnerable people; disorderly places; and theft, robbery, and burglary. The case studies tell stories of how police, in collaboration with others, successfully tackled real-world policing problems fairly and effectively.
Order this book from Routledge 
New POP Guides
New Wilderness Problems Collection
These publications explain how the ideas and principles of problem-oriented policing can be adapted to wildlife protection problems and how your organization can start a problem-oriented project of its own. 
The Wilderness Problem-Specific Guides are designed to help law enforcement agencies structure their thinking and analysis about specific wilderness problems by synthesizing the academic literature available on the topic and providing a framework for problem solving at the local level. 
New Study Further Validates POP
by Joshua C. Hinkle, David Weisburd, Cody W. Telep, and Kevin Petersen
Timely Topics